The smart, intuitive ClassroomCare® technologies enrich students' learning and provide germ-resistance, air quality and Eyesafe® protection to create smart and fresh learning spaces
Dubai, Feb 28, 2023: Preschool education is crucial for building the intellectual foundations of children. Digital learning has emerged as a way to make learning more interactive and interesting for young students with short attention spans, high energy and curiosity levels. Multimedia-driven educational content can be harnessed to motivate kids to learn while developing language and numeracy abilities, cognitive skills and physical development. It has become an essential part of early childhood education – creating exciting and interactive experiences that support pre-schoolers' overall development. It also helps educators provide fresh content tailored to the needs of their students while maintaining good air quality in the classroom.  
By leveraging advanced digital technologies, educators can foster environments that make it easier for children to understand and stay engaged. For example, interactive displays and cloud whiteboarding allow for interactive sessions that are both informative and interactive – helping children understand concepts better through visual learning. Additionally, digital tools provide a platform for collaboration, allowing pre-schoolers to build on each other's ideas and providing teachers with the opportunity to facilitate discussions in an engaging way. Therefore, leveraging digital technology also simplifies administrative tasks, freeing up time for meaningful instruction.  
Gamification strategies such as introducing educational games into curricula are great ways to keep children engaged – an important factor in early childhood development. Interactive teaching techniques through multimedia tools enable educators to facilitate fun activities that stimulate learning while keeping classroom environments exciting and fresh. Additionally, air quality plays a key role in ensuring the health of pre-schoolers during their formative years. Poor air quality can cause serious health issues for children, putting their learning performance at risk. Therefore, education-focused display solutions with integrated air purification and germ-resistant capabilities are needed to ensure that the classrooms are clean and healthy for kids.  
The BenQ Board RP03 Series, for instance, is a revolutionary interactive education display that houses an ioniser which releases negative ions when it senses people are nearby. Advanced technologies like these facilitate better learning by providing a safe and comfortable environment conducive to optimal learning outcomes.  
BenQ is leading the EdTech industry with smart, intuitive ClassroomCare® technologies which enrich students' learning. It provides germ-resistance, air quality and Eyesafe® protection to create smart and fresh learning spaces.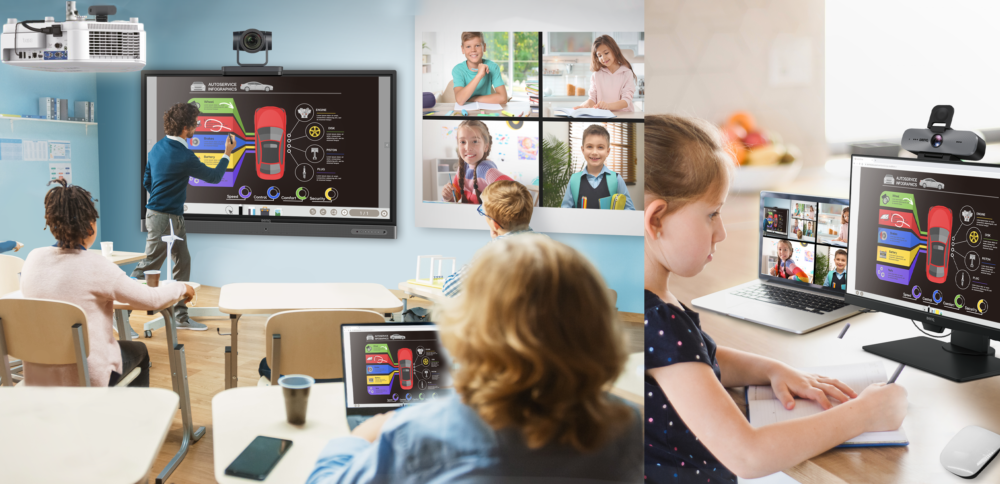 The company has been devoted to the advancement of eye-care technologies for more than a decade, having received certification from TÜV Rheinland in 2012. It has revolutionised the display industry with groundbreaking inventions such as Flicker-Free Technology, Low Blue Light Technology, Low Blue Light Plus Technology, Brightness Intelligence Technology (B.I. Tech), Brightness Intelligence Plus Technology (B.I.+ Tech), Color Weakness Mode, Eye Reminder and ePaper Mode – all designed to provide a seamless user experience!  
BenQ's cutting-edge GW Eye Care series provides comprehensive protection for your vision, whatever the young ones are doing – learning, gaming or streaming content. Packed with advanced features and much more, these monitors ensure healthy and fatigue-free viewing experiences at all times.  
Also, worth noting is, BenQ's Smart Interactive Classroom Projector EW800ST,. Say goodbye to colour inaccuracies caused by dust with the revolutionary Dustproof Sensor of this advanced education projector. This efficient technology shields the colour wheel, thus maintaining a precise image and extending its lifespan significantly. 
Technology-backed learning enhances the quality of early childhood education by creating interactive experiences that boost engagement and cognitive development in young learners. It opens up a world of possibilities that can be tailored to fit the needs of each learner while also freeing up valuable class time for meaningful instructions. Furthermore, it helps create an interactive environment where children can learn collaboratively while being encouraged to express their individual ideas.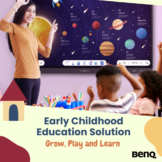 BenQ's interactive education displays and in-built cloud whiteboarding solution, EZWrite, have made it possible to create immersive interactive games and digital stories, allowing children to learn by hands-on experimentation. Such interactive learning experiences can better motivate young learners and help them develop a variety of skills and problem-solving capabilities. Thus, leveraging technology in early childhood education can be an effective tool to make the learning process interactive, engaging and enjoyable for students from a young age.