The education regulator has also released admission guidelines for enrolling nursery children
Dubai, Jan 26, 2022: The Knowledge and Human Development Authority (KHDA) has released guidelines for teaching, learning, care and wellbeing for the operators of Early Childhood Centres (ECC) in Dubai. The guidelines must be met in full whether applying to open a new ECC which also includes expanding a new branch or to add new age groups. The submission will be evaluated by KHDA.
The applicants will have to provide an outline on:
how the teaching approach (based on the stated philosophy) will promote children's wellbeing, learning and development
the curriculum for all age groups within the setting
In case of implementing combined programmes, indicate how they will complement each other to ensure a seamless, quality provision
the plan to group the children
pedagogical age-appropriate approaches for Arabic acquisition
how the proposed programme will promote UAE culture and help nurture a national identity, especially for Emirati learners
the Inclusive Education Development Plan, which should be aligned to the Dubai Inclusive Education Policy Framework4
the approach to children demonstrating exceptionally rapid learning or development and/or highly apparent, specific skills in one or more domains
how individual and cohort-level data will be collected and used to determine children's progress over time against age-related expectations
the proposed approach to partnership with parents and guardians, including the implementation of The Parent – ECC Contract
showing the planned approach to protecting and promoting the wellbeing of children in the setting
the planned safeguarding and arrangements for child protection
the approach to risk assessment and mitigation
Meanwhile, KHDA has also released admission guidelines for enrolling nursery children. According to the guidelines, a child must be at least 45 days old to be admitted to an ECC. The other age guidelines are as follows: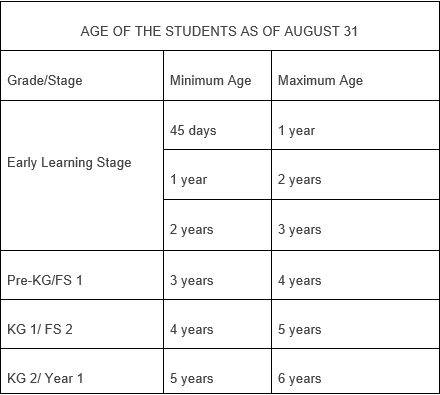 The guidelines are intended to provide a useful and transparent reference to help acquire an Educational Services Permit, outline the steps to complete and submit an Education and Care Plan and other required documentation and outline the main regulatory requirements to support applications to obtain an Educational Services Permit.
Mohammed Darwish, CEO of Permits and Compliance at KHDA says, "We have high expectations of Dubai's early years education sector, and this guide gives operators the information they need to offer high-quality provision. We plan on working closely with our partners in this sector to ensure that children are able to learn and thrive in an environment that puts their wellbeing at heart."
The guidelines released for early childhood centres by KHDA covers various sections like how to obtain an Educational Services Permit, the educational care plan and regulatory requirements. The detailed document can be assessed from the KHDA website.