A single solution for presentation and collaboration, it addresses three stages of workflow for teachers including preparation, presentation, and participation
Dubai, May 20, 2022: ViewSonic's  myViewBoard Ecosystem, a tool that enables teachers to create dynamic lesson plans, import engaging content and share lessons with students, is an ideal digital solution for schools to optimize student outcomes. 
A single solution for presentation and collaboration, it addresses three stages of workflow for teachers at just one easy click. In the first stage, teachers can prepare by organizing their ideas that includes adding text and graphics, dragging in videos and making notes. The stage comes with a presentation feature where teachers can share their ideas through the cloud, while annotating and running searches on the internet in real time. The third stage provides participation and interaction features where teachers are allowed to add pop quizzes, polls & more. They can also create small groups instantly and invite multi-user participation. 
myViewBoard works well with existing technology and seamlessly integrates into nearly any classroom. It is compatible with Windows, Android, and cloud environments. 
Some of the key highlights of myViewBoard include: 
1. Whiteboard
A visual teaching tool for preparation, presentation, and participation in the classroom and beyond, the Whiteboard gets out of teachers' way and lets them teach their way while providing all the tools they need. Whiteboard's Magic Box adds existing teaching materials, digital media, interactive elements, and pop quizzes either in the lesson plan or real-time in the classroom. myViewBoard's gamification increases engagement where students learn through play. Teachers can easily gamify their lessons with built-in gaming features like 3D dice. Or lessons can include a pre-made activity from myViewBoard Originals either chosen ahead of time or added ad hoc.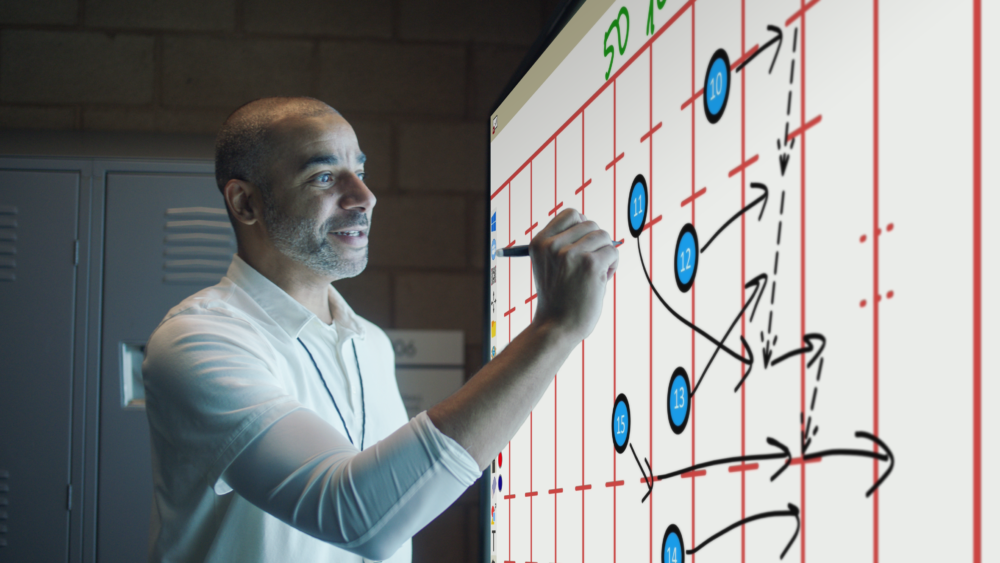 Furthermore, it also improves lesson outcomes with more inclusive lessons. Whiteboard can engage auditory, visual, and tactile learners through the seamless delivery of a wide variety of media and hands-on interactivity while its smallboards feature enables teachers to involve more learners. Whiteboard can split into up to six Smallboard workspaces for students to independently create and share together. 
To make reading more accessible for all, Whiteboard has partnered with Microsoft to improve comprehension for any reader with the Immersive Reader. For those who struggle with reading, have additional accessibility requirements, or dyslexia, the Immersive Reader can support their reading development.
With Whiteboard, the natural approach of adaptable lessons gives teachers the ability to prepare and present engaging material that inspires students to participate.
2. Classroom
A versatile classroom management tool to connect teachers and students for better engagement, the classroom works on any standard browser connecting teachers and students with a single powerful dashboard. It is a robust solution to teaching and engaging up to 30 students for in-class lessons, distance learning or hybrid learning.
myViewBoard Classroom is aimed at simplifying classroom management. Teachers can streamline everything from taking attendance and facilitating collaboration to keeping students on task or sharing lesson materials all from their dashboard.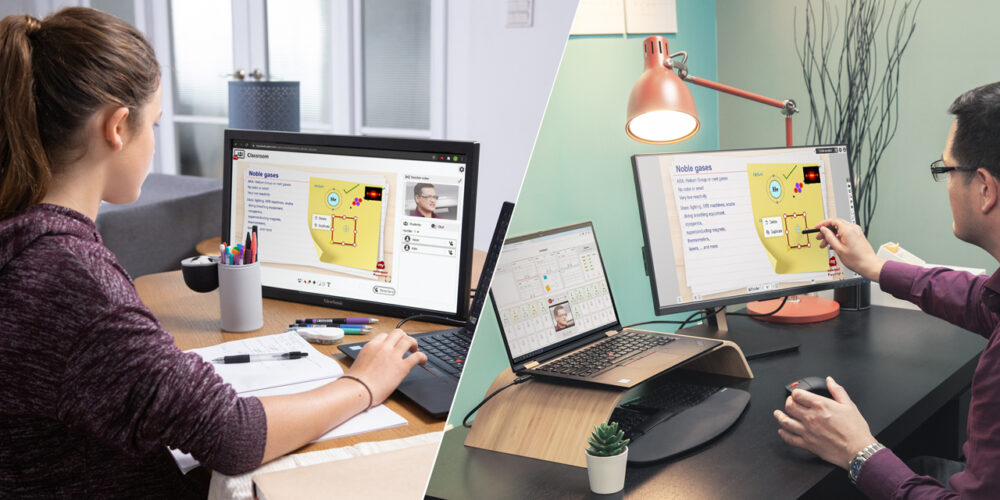 For improved engagement, Classroom has a feature called Huddle. In situations where students are not physically present in the classroom, they can chat, interact with their group's live canvas, and even present their work to the class. 
Moreover, Classroom allows teachers to search web images, videos and other content and add them directly to the teacher canvas. And for distance learning or hybrid learning, a two-way voice communication between teachers and students creates a more natural online learning environment.
Classroom comes with Google Classroom compatibility. It integrates easily with Google Classroom to manage classes efficiently along with other powerful tools while teachers can drop sticky notes, animated widgets, 3D models and more directly onto the canvas to keep students focused on task and engaged.
3. Originals
It is a huge collection of ready-made interactive content made for digital Whiteboards. Lessons are easier to plan and prepare, with a vast collection of interactive media created for all age groups, subjects, and teaching styles within a user-friendly database.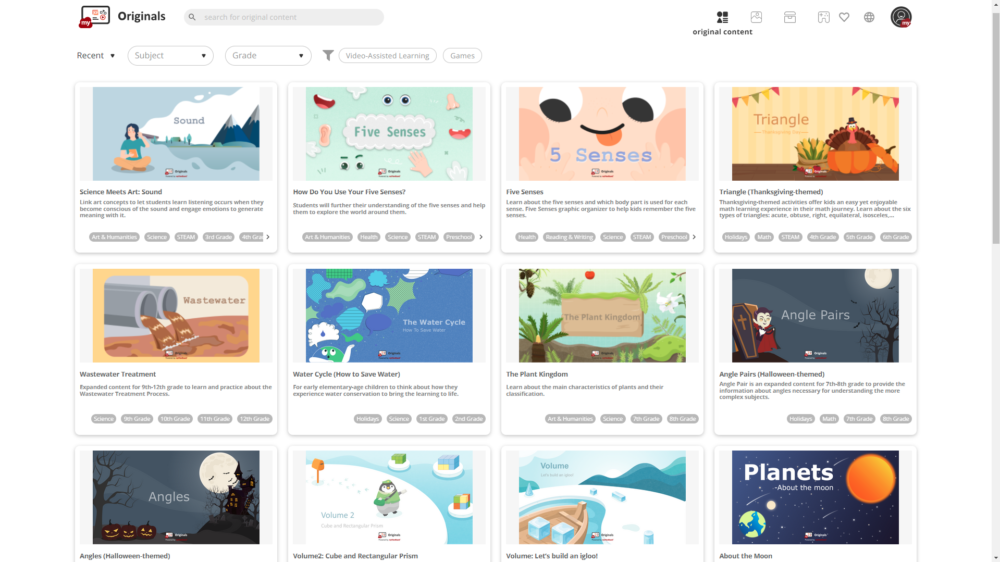 Originals has an extensive library of teaching materials ranging from interactive modules to full lesson plans while it features an extensive stock collection for teachers to add safe, copyright-cleared media to their lessons. 
Meanwhile, to have multiple gamified versions, it has created its own exclusive educational games that can be dropped into a lesson or accessed from a web browser. 
4. Manager
A simple web dashboard for managing the displays in your network, Manager troubleshoots, optimizes, and controls all the displays connected to your network through a single streamlined web dashboard that's securely accessible from any device.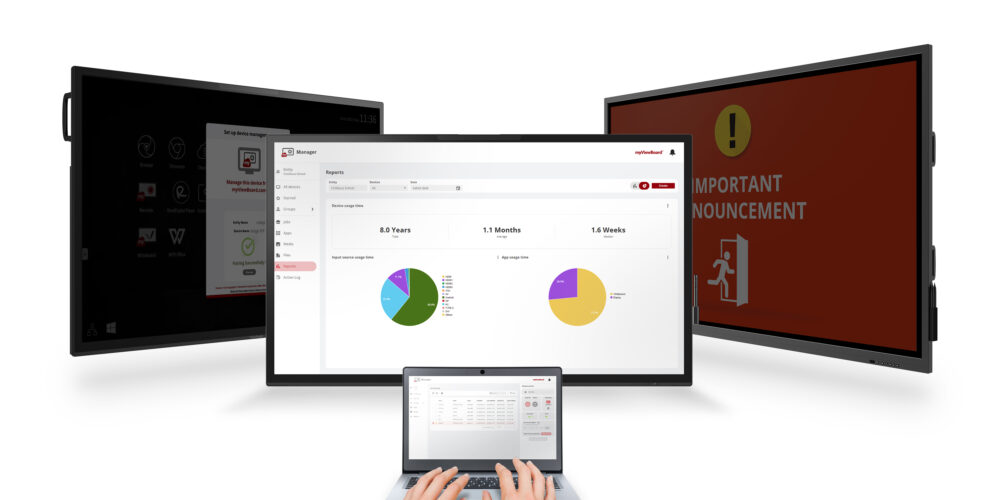 It comes with a centralized control feature and lets system administrators change hardware settings, manage software or send push notifications to displays on their network from just one intuitive interface while teachers get fully functional remote access from any browser anytime. 
5. ViewBoard Cast
ViewBoard Cast allows teachers to cast their mobile phone, laptop, or tablet onto a ViewBoard display over wireless networks, while simultaneously annotating documents, multimedia, and other files in real-time with multiple users as they cast. Casting is applicable for iOS and Android devices and Chrome browser via AirPlay and Chromecast on ViewBoard while it's Windows and Mac compatible.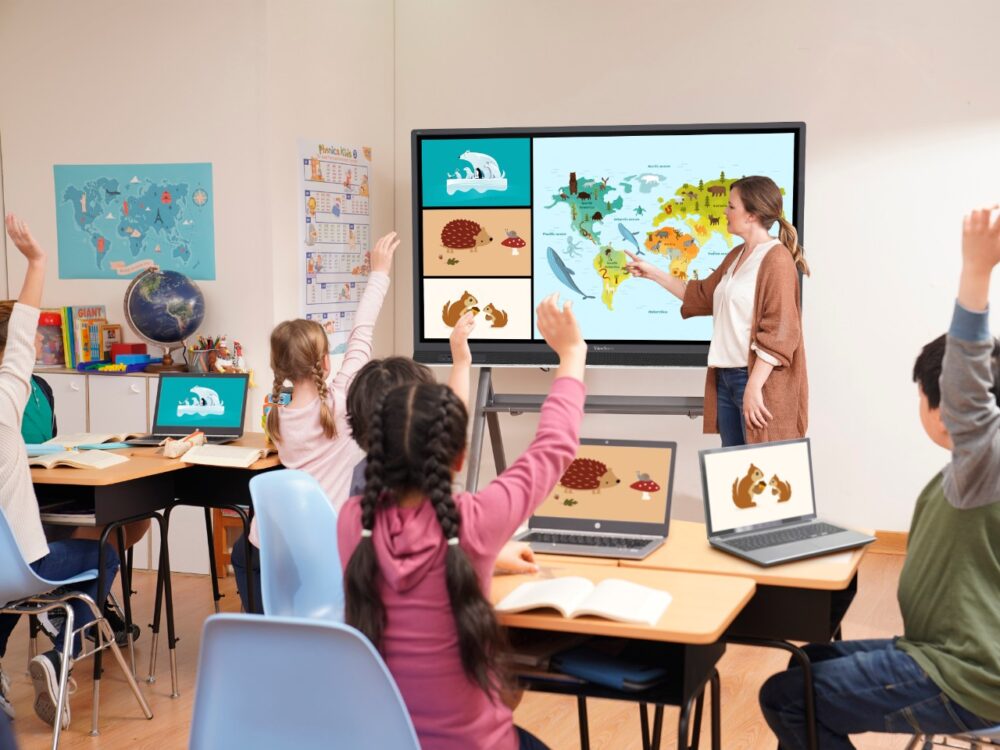 There are no user limitations on ViewBoard Cast on Windows. However, the connection limit on Android is 1 to 4. It can be downloaded for free on vCastSender App and is available on AppStore/Play Store as well. 
Schools can register free for the myViewBoard account.